The project methodology has been participatory action exploration which means that we have linked and collaborated with other agencies that support UASC.
To enable our inquiry to be purposeful we set up and emotional health and wellbeing clinical network that met once a month to discuss concerns and dilemmas as well as provide supervision and consultation for clinicians feeling stuck or at a loss on what to do next.
The work undertaken was multi-disciplinary and multi-agency bringing together our similarities and differences as a way to enhance our abilities by working together.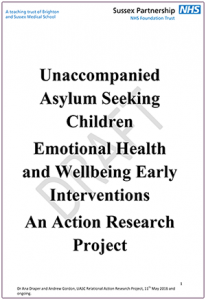 Each section of the framework will have links to additional documents and resources that are connected to any given formulation.